What Happens If You Don't Change Your Oil?

Engine oil is critical for maintaining proper function within your vehicle's powertrain. Oil works to lubricate moving components within the engine to minimize friction, maximize efficiency, and reduce the risk of any damage. What happens if you don't change your oil? You may end up stranded on the side of the road in Harvey or taking an unplanned pit stop for service near Marrero.
Over time, the oil in your engine will break down and become a less effective lubricant. Additionally, your oil will inevitably pick up debris, which will add friction to the moving engine parts. With more friction, your engine components may heat up beyond what the manufacturer intended, leading to damage. Discover more of what happens if you don't get your oil changed with Ray Brandt Kia and check out our recommended Kia maintenance schedule for a smoother New Orleans commute.
---
What Does Motor Oil Do?
Motor oil works to reduce friction throughout your engine. More precisely, oil is responsible for the following roles:
The main role of motor oil is to reduce friction and prevent damaging wear and tear on moving parts.
Dispersants can be found in some motor oils and are designed to clean up engine sludge.
Motor oil with added detergents can help clean varnish from the engine as well.
With regular service, fresh motor oil can cool the engine, neutralize acids formed from fuels, and improve ring seals.
Our experienced technicians have seen it all and you can trust us when we say, you don't want to find out what happens if you don't get your oil changed!
---
How Often Should I Change My Vehicle's Oil?
Traditionally, it was recommended that drivers get an oil change every 3,000 miles. However, with the rapid advancements in both vehicle technology and car care services, most vehicles can go 7,500 to 10,000 miles between oil change services.
While this is a good rule of thumb, it doesn't apply to every driver or vehicle. If you regularly off-road, haul heavy cargo, travel long distances, or engage in driving habits that can be taxing to your engine, you should stop in for an oil change more frequently. Luckily, we offer rotating service specials year-round to help drivers who may need more regular maintenance save!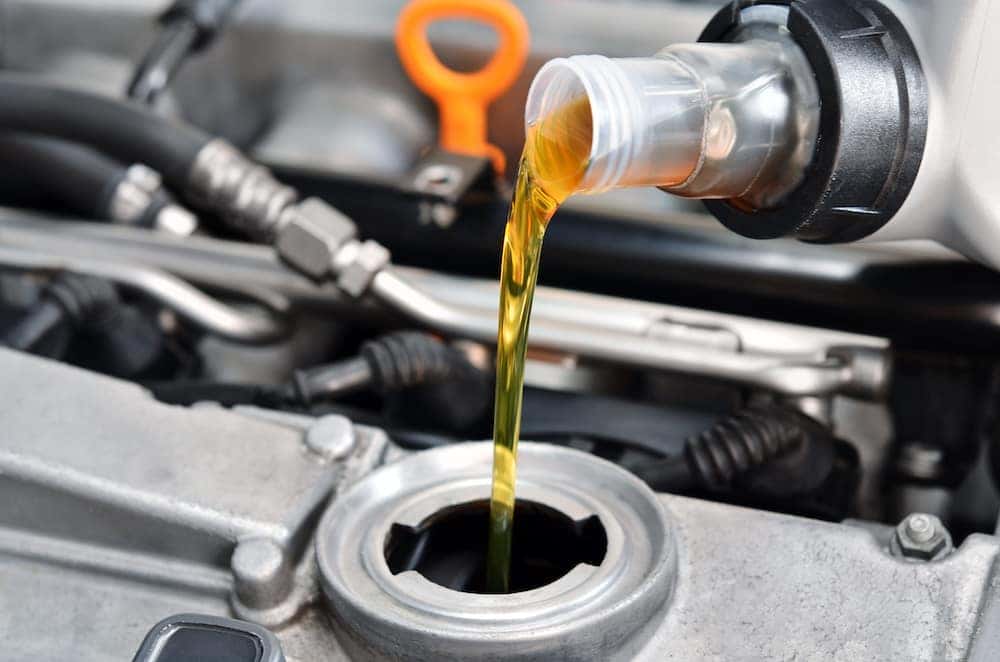 ---
How Do I Change the Oil Myself?
If you are not interested in experiencing the consequences of what happens if you don't get your oil changed, you can always check your oil and perform the job from home! Consult your owner's manual to find out what type of oil your vehicle needs, then follow the steps below for a flawless DIY oil change:
Securely jack your car up on steel ramps or jack stands.
Under your engine, locate the oil drain plug. Place an oil basin directly beneath the plug, unscrew the plug, and let the old oil drain. This can take up to 15 minutes. Once the oil has drained, replace the plug.
Remove your oil filter with an oil filter wrench. Keep the oil basin nearby as extra oil will likely drain out at this point.
To ensure a watertight seal, rub oil around the rubber seal of your new filter. This is a critical step.
Replace the filter and tighten it by hand.
Remove your oil cap and slowly add your new oil. You can find out how much oil to add from your owner's manual. Replace the oil cap.
Grab your dipstick and check your oil level before you close up shop. If you're still low, add another ounce of oil and check again. Repeat this process until you have reached the proper volume.
---
Turn to Ray Brandt Kia for Oil Change Service and More
Now that you know the consequences of what happens if you don't change your oil, you'll be better prepared to care for your vehicle. If you want tips to take on your oil change from your own garage, contact us today. We'd be happy to help! Want to learn how often to change your engine air filter? We can guide you through that too! If you prefer to let the experts handle your car maintenance, schedule service with us and a professional will have your car ready in no time. Get in touch for all of your auto needs or stop by our Harvey dealership at any time!
More from Ray Brandt Kia
If you are looking for help in the Harvey area in terms of find a vehicle that will save you money while keeping your gas tank full, then you'll want to check out the Kia Forte MPG. With the Kia Forte fuel economy, you will be enjoying 41 miles per gallon on the highway,…

Starting $19,190 MSRP, the 2022 Kia Soul matches fuel efficiency with an absolutely reasonable starting price. Besides these two perks, you'll also be able to save money in the long run, thanks to the exceptional fuel economy rating. The fuel economy can vary by trim but usually can hit up to 29 mpg city…

With the base model of the Kia Seltos coming in at an affordable $22,490 MSRP, you can only go up from there in terms of safety features and highlights. Learn more about the Kia Seltos interior and the Kia Seltos price of the five different trim levels, and see what else this subcompact SUV…