How to Sanitize Your Kia of Coronavirus

When you upgrade to a new or used Kia with us, we become your automotive partner for life. That means we have your back when it comes to keeping your vehicle in top condition. Now more than ever, it is important to routinely clean your vehicle to help prevent the spread of Coronavirus. Learning how to sanitize your car of Coronavirus will ensure you are doing your part to flatten the curve. Learn more about how to sanitize your car for Coronavirus as well as other germs and infectious diseases with the experts at Ray Brandt Kia below!
---
Keep You and Your Passengers Safe
Preventing infectious diseases from spreading depends upon strong individual habits. Every time you leave the house, keep the following in mind:
Ensure that every trip out is a safe one. Wear a face mask, gloves, and be sure to follow all local guidelines for social distancing.
Wash your hands thoroughly when you return home, even if you wore personal protective equipment.
Travel with a small bottle of hand sanitizer to add extra protection.
Protip: Avoid leaving a large pump bottle of hand sanitizer in your car, as the warm summer temperatures can cause the bottle to explode, creating a mess.
---
Proper Car Sanitizing Materials
When you want to learn how to sanitize your car of Coronavirus, you must start with the proper supplies. Disinfectant wipes are your best bet for sanitizing the interior and exterior of your vehicle. Viruses and germs can latch on to your vehicle, so any high-contact areas should be properly wiped.
Soap and water can also be used to wipe down your car. However, you don't want to be overzealous in your scrubbing as too much elbow grease can actually damage your vehicle's surfaces. A gentle yet thorough approach is best. Additionally, you want to avoid bleach, hydrogen peroxide, and ammonia-based cleaners when sanitizing your vehicle of Coronavirus, as harsh cleaners can damage the pristine finish of your Kia.
---
Giving Your Kia a Deep Clean
When you have assembled the proper cleaning gear, you want to focus on the areas that are prone to be exposed to bacteria, viruses, and other germs. Wipe down your seats and pay special attention to the following areas:
Steering wheel
Control buttons for navigation, air conditioning, etc.
Paddle shift levers
Gear selector lever
Turn indicator stalks
Console armrests
Display screens
Cupholders
Cubbyholes
Air conditioner vents
Door handles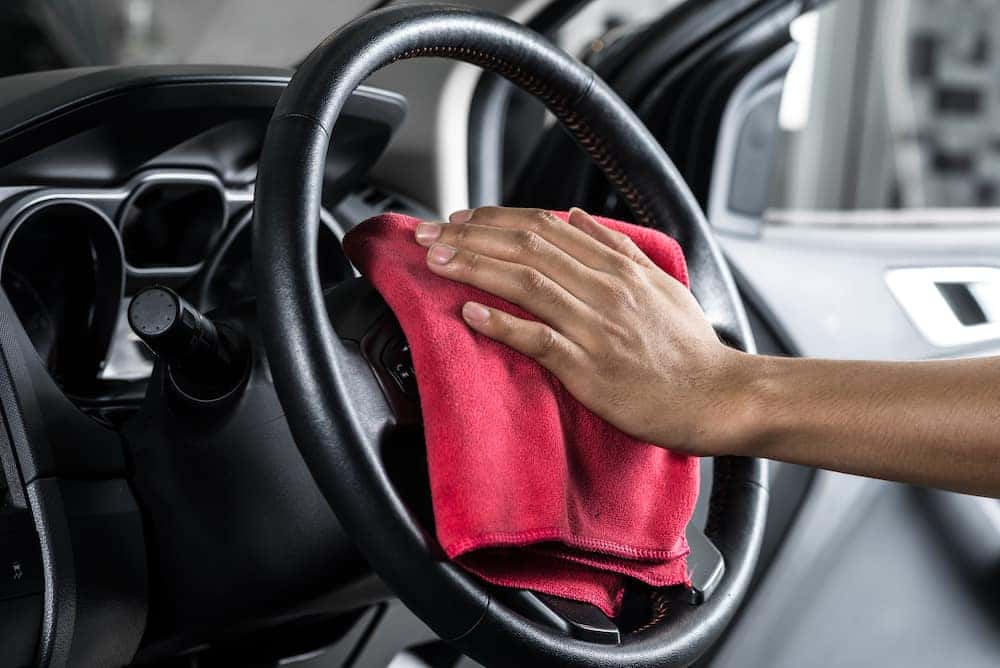 ---
Get More Kia Cleaning Info from Ray Brandt Kia
Now that you have learned the best practices to sanitize your car of Coronavirus, you can keep yourself and the rest of your neighbors in Marrero and New Orleans safer. If you prefer further guidance, our service team is standing by. If car care concerns arise, schedule service with us for a contactless appointment. Contact us to learn more about how we are working hard to keep our business and community safe.
---
Our Service Specials
---
More From Ray Brandt Kia
If you are looking for help in the Harvey area in terms of find a vehicle that will save you money while keeping your gas tank full, then you'll want to check out the Kia Forte MPG. With the Kia Forte fuel economy, you will be enjoying 41 miles per gallon on the highway,…

Starting $19,190 MSRP, the 2022 Kia Soul matches fuel efficiency with an absolutely reasonable starting price. Besides these two perks, you'll also be able to save money in the long run, thanks to the exceptional fuel economy rating. The fuel economy can vary by trim but usually can hit up to 29 mpg city…

With the base model of the Kia Seltos coming in at an affordable $22,490 MSRP, you can only go up from there in terms of safety features and highlights. Learn more about the Kia Seltos interior and the Kia Seltos price of the five different trim levels, and see what else this subcompact SUV…