How to Do a Tire Rotation


Whether you're behind the wheel of a new, used, or certified pre-owned Kia model from Ray Brandt Kia, it's important to know how to do a tire rotation in order to keep your vehicle running at its best and stay on top of your Kia maintenance schedule. You can surely count on your local mechanic or service team to get the job done and have you back on Harvey and Marrero roads in no time, but you can also learn how to rotate tires at home if you're up to the task. Learn more about Kia tire rotations with Ray Brandt Kia.
---
Why is Tire Rotation Necessary?
Due to different driving habits, as well as your vehicle's drivetrain and where and how often you drive your Kia, tires don't wear evenly. When your tires are constantly turning and coming into contact with the road, the outside edges and treads of the front tires may have been worn more than rear tires, which can wear down more evenly. Failing to rotate your tires will mean they will wear at different rates and you may have to replace tires separately.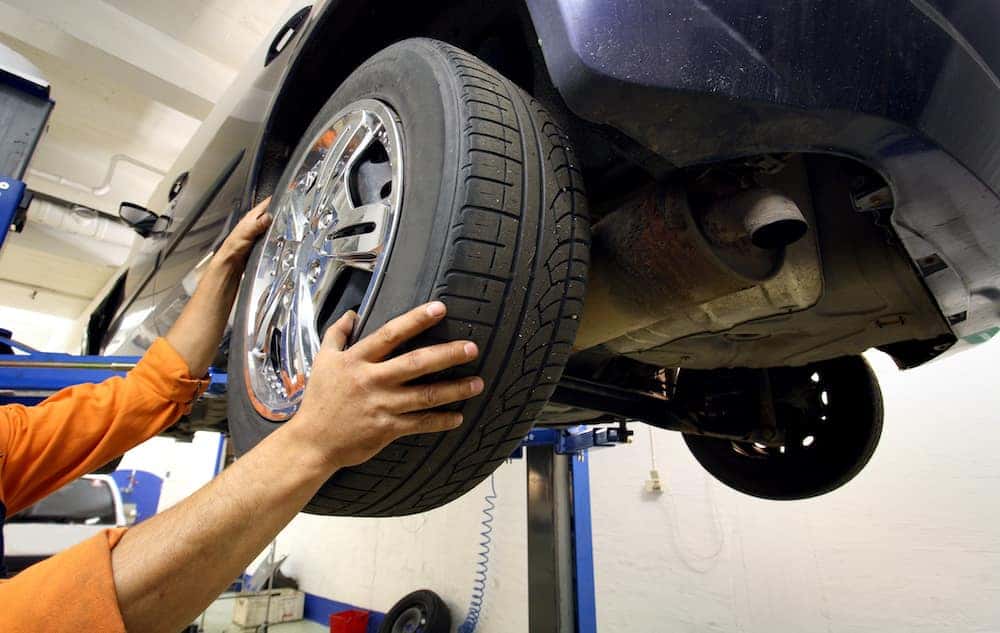 ---
How Often to Rotate Your Tires
If you're behind the wheel of a front- or rear-wheel drive vehicle, then you can go by the regularly suggested interval of having your tires rotated every 5,000 to 7,500 miles (and changed when they start to wear thin). But since all-wheel-drive vehicles have tires that are constantly facing wear, they will have to be changed more frequently between every 3,000 to 5,000 miles. As with any vehicle service, refer to your owner's manual for more specific tire rotation recommendations.
---
Tire Position
Whether you have AWD, FWD, or RWD Kia models, it's important to know how to tires should be changed correctly according to the drivetrain that you leverage.
FWD Tires: Move the front tires to the back of the car in the same left/right positions, and when moving the rear tires to the front, switch the right and left tire.
RWD Tires: The opposite is true with RWD vehicles. The rear tires should be moved to the front in the same left/right positions, but when moving front tires to the rear, be sure to switch the left and right tire.
---
How to Rotate Tires at Home
If you're a self-starter and you want to know how to rotate tires at home, be sure you have a car jack and lug nut wrench on hand. Once you have everything you need, follow these six steps to easily rotate your tires:
Engage parking brake for an extra measure of safety.
Loosen the lug nuts on all four wheels, but don't take them all the way off. This step makes unscrewing them when the tire is elevated much easier
Lift up one wheel with a car jack and place the jack stand underneath it.
Remove the tires one by one.
Take this time to make sure your tires are filled to the optimal tire pressure. Once filled, you can rotate them according to the appropriate pattern for your type of tires. Place the tire back onto the wheel mount and screw the lug nuts on by hand as far as you can.
Lower the car from the jack stands and use the lug wrench to finish tightening the nuts. It's best to work the lug nuts diagonally from one to another in a star pattern to ensure even tightening. If the lug nuts aren't tightened evenly it can cause the brake rotor to warp.
---
Get Kia Service at Ray Brandt Kia
Now that you know how to rotate tires at home, make your way over to the Ray Brandt Kia service department if you have any questions or want a second look. Check out more service features such as what happens if you don't change your oil, how long oil changes take, how to jump start a car, along with many more Kia service tips and tricks. Be sure to take advantage of our Kia service specials to save even more on your next visit. Contact us today to schedule an appointment near Gretna and New Orleans!
---
Our Service Specials
---
More From Ray Brandt Kia
If you are looking for help in the Harvey area in terms of find a vehicle that will save you money while keeping your gas tank full, then you'll want to check out the Kia Forte MPG. With the Kia Forte fuel economy, you will be enjoying 41 miles per gallon on the highway,…

Starting $19,190 MSRP, the 2022 Kia Soul matches fuel efficiency with an absolutely reasonable starting price. Besides these two perks, you'll also be able to save money in the long run, thanks to the exceptional fuel economy rating. The fuel economy can vary by trim but usually can hit up to 29 mpg city…

With the base model of the Kia Seltos coming in at an affordable $22,490 MSRP, you can only go up from there in terms of safety features and highlights. Learn more about the Kia Seltos interior and the Kia Seltos price of the five different trim levels, and see what else this subcompact SUV…