What is My Car Maintenance Schedule?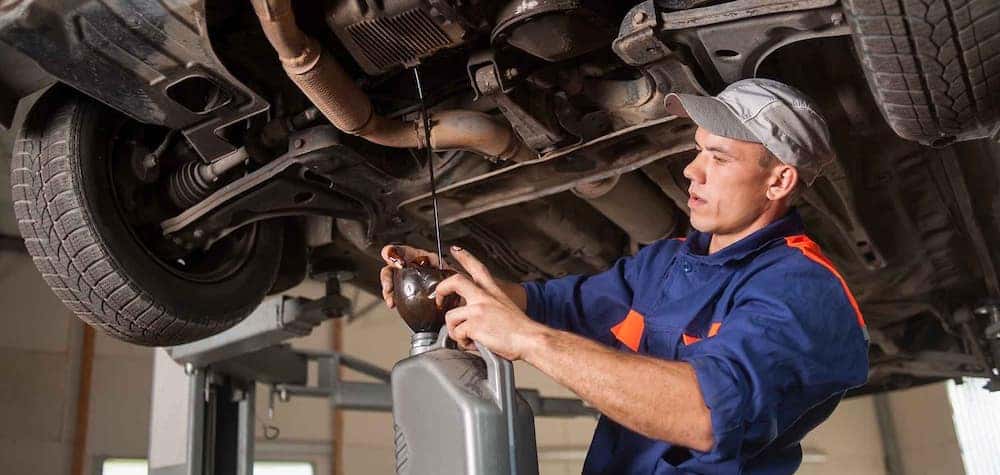 After you buy a new Kia or used vehicle near Harvey, it's important to keep up with regular car services to ensure that it runs properly for years to come. Not only does this help you get the most out of your investment, but routine maintenance saves you from having to pay for more serious, and more expensive, issues down the road. Follow this car maintenance schedule to keep all aspects of your car in proper working order.
A General Kia Maintenance Schedule
No two vehicles are exactly alike. However, if you're trying to create a budget or plan for the years ahead, you can get a basic idea of what to expect by checking our general Kia maintenance schedule. These general guidelines can help any driver get prepared for vehicle ownership, but you should always check your owner's manual for details, exclusions, and additional services that may need to be covered.
Every Month
These are the maintenance checks you should perform every month on your vehicle:
Clean the interior and exterior
Check to see if the check engine light is on
Check tire pressure and tread
Make sure all the interior and exterior lights work
Make sure windshield wiper fluid is filled
Every Three Months or 3,000 Miles
Check the following vehicle components:
Engine oil and air filter
Automatic transmission, power steering, wiper fluid levels
Tire pressure, tread, and wear and tear
All lights inside and out
Belts, exhaust, and hoses
Fuel filter
Every Six Months or 6,000 Miles
In addition to the three-month/3,000-mile maintenance, you'll want to have these components checked every six months or 6,000 miles:
Chassis lubrication
Polish your vehicle
Car battery and cables
Windshield wipers
Every 12 Months or 12,000 Miles
These systems and components should be checked annually:
Steering and suspension
Coolant levels
Brake system
Transmission fluid levels
Required Services for Kia Vehicles
Are you looking for a Kia Optima maintenance schedule, a Kia Soul maintenance schedule, a Kia Sportage maintenance schedule, or a Kia Sorento maintenance schedule? Although checking your owner's manual is essential, and required services may change from year to year, you can use any of the following guides as a quick reference in a pinch:
7,500 Miles – Oil change, tire rotation, safety inspection
15,000 Miles – All of the above, plus engine air filter and cabin air filter replacement
22,500 Miles – All 7,500-mile services, plus brake pad and tire replacement, as necessary
30,000 Miles – All 15,000-mile services, plus brake fluid, transmission fluid, and coolant replacement
37,500 Miles – All 22,500-mile services, plus drive belt replacement
45,000 Miles – Identical to 15,000-mile service
52,500 Miles – Identical to 37,500-mile service
60,000 Miles – Identical to 30,000-mile service, plus replacement of timing belt and spark plugs, as necessary
This general Kia service schedule should help you get through the first five years of ownership with ease. Do you have additional questions? Are you looking for advice on how to proceed after 60,000 miles? Although not much will chance as you continue to pass the required service intervals, you can always count on Ray Brandt Kia to point you in the right direction.
Why Follow a Car Maintenance Schedule?
It seems like common sense, but we often forget that our vehicles are intricate machines that need regular care to function properly for your Marrero drives. Without that routine auto service, you risk experiencing more involved issues down the road, such as a dead battery that needs a jump. This can lead to the need for expensive auto parts and repairs. Routine maintenance not only keeps your car, truck, or SUV in running smoothly, but it also saves you money.
Take Advantage of the Ray Brandt Kia Service Department
When your vehicle is due for one of these routine maintenance intervals, let the professionals help. Schedule a service appointment with our highly trained technicians in Harvey, and check out our service specials to help you save on regular car services. You can even learn more about the incredible service you'll get under the Kia warranty coverage. Wanna learn more about vehicle maintenance tasks? Discover how often to change your engine air filter with us today!
More From Ray Brandt Kia
If you are looking for help in the Harvey area in terms of find a vehicle that will save you money while keeping your gas tank full, then you'll want to check out the Kia Forte MPG. With the Kia Forte fuel economy, you will be enjoying 41 miles per gallon on the highway,…

Starting $19,190 MSRP, the 2022 Kia Soul matches fuel efficiency with an absolutely reasonable starting price. Besides these two perks, you'll also be able to save money in the long run, thanks to the exceptional fuel economy rating. The fuel economy can vary by trim but usually can hit up to 29 mpg city…

With the base model of the Kia Seltos coming in at an affordable $22,490 MSRP, you can only go up from there in terms of safety features and highlights. Learn more about the Kia Seltos interior and the Kia Seltos price of the five different trim levels, and see what else this subcompact SUV…