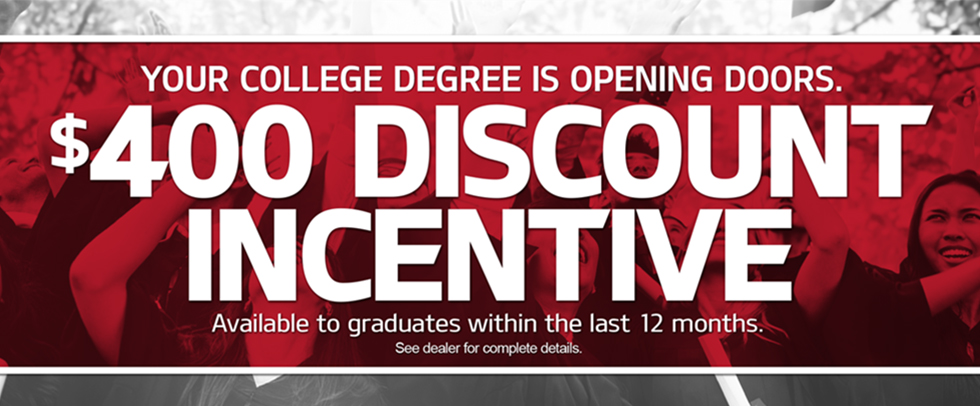 Kia College Graduate Incentive Program in New Orleans*
You've worked hard to earn that college degree. You spent countless nights studying, bought enough cups of coffee to last a lifetime, and you made it through finals week again and again. After four, or even five years, all your hard work has finally paid off! Here at Ray Brandt Kia, we offer our College Graduate Rebate Program as our way of saying "Good job grad, you deserve it".


How to Participate in Kia's College Graduate Program
In order to take advantage of your $400 discount incentive from Kia, you'll need to provide us with a copy of your diploma or a letter from your qualifying college or university's registrar's office stating that you graduated within the past 12 months.1 You must qualify to participate, please see dealer for details.
Find Your New Kia Model
Get to work and find the perfect Kia to put that discount towards! You can search our new and used inventories online and find the model that suits you best! We have all the latest Kia models available for your choosing. You'll be sure to find the right one to get you to that next interview or your new office!
Thank you for choosing Ray Brandt Kia to provide you your vehicle after your graduation! We congratulate you on furthering your education and wish you the best of luck in all your future endeavors!
* This Kia Motors America College Graduate Incentive Program (the "Offer") is limited to customers who meet all the following Offer criteria and purchase or lease any new 2015 or 2016 model year Kia from retail dealer stock between March 1, 2016 - July 5, 2016. Only available at participating Kia dealerships. Must have a diploma from an accredited 2 or 4 year college or university, nursing school, or master's or doctorate program and have graduated within the 12 month period preceding the date of vehicle purchase or lease. Offer subject to availability. This benefit may change or end in the future in the sole discretion of Kia Motors America.
1 $400 discount incentive from Kia Motors America (KMA): Only one Offer per vehicle. $400 discount incentive not valid on Kia Certified Pre-Owned Vehicles or any used vehicles. See dealer for more details.
LEASE: $400 Bonus must be applied towards the amount due at lease signing and may affect the final negotiated price.
PURCHASE: $400 Bonus must be applied to reduce the down payment and may affect the final negotiated price.